I have read and understand the Cogboard Bounty rules
Bounty Request Format:
Discord Username: Glas#0973
Payment Information (Optional) 30$ USD - Paypal, (PP fees will be deducted)
Due to complexity and features that might be needed price is negotiable
Description of Cog: Score tracker for web game
V2 or V3: V3
API's or other information: There's an API to grab scores but uses user cookies to access the data, so the data needs to be grabbed from a local MongoDB Instance, meanwhile song and category data is public available
Other info (Bounty, issues, ETC):
I'd like to make a COG that tracks and reports new users score on a certain channel.
If a player records a new score post it as an embed in a fancy editable format with variables and custom emotes/images.
Cog would also mention if a user has defeated another player record.
Not-Embed example?
There's also need for certain commands listed below
Challenges:
Decrypt score data Not anymore, dev helped, +info on posts below
How to learn if a score was recorded on the database.
Score table on DB has no unique identifier/date so I assume cog will need to track changes from DB to determine if a score is new or not. (There's correlation from _id), but sadly no date on that.
Report if a new song has been added (from API), songs have a unique int identifier. So a daily task could check if a new song was added and report it as well on a channel via embed.
Score Example: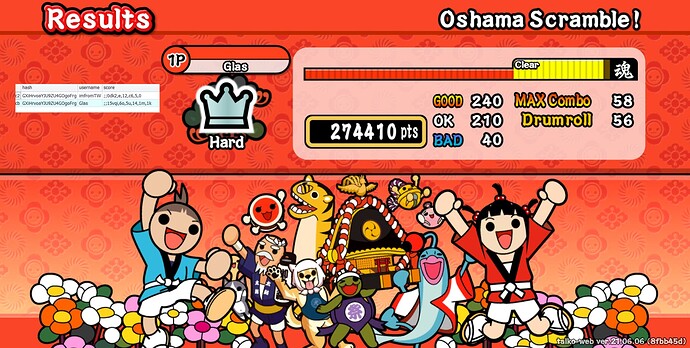 Source: taiko-web/scorestorage.js at master · bui/taiko-web · GitHub
Commands:
!songlist : Grab all song names with ID number from database
!toprank id: Create a top 5 of total scores with the provided song ID (from !Scorelist)
!latestscores: Show last 20 played songs and it's scores
!associate: Link discord account with user name in database
!topplayers: Show top players in a week/month.
!setchannel: Sets the channel for notifications
!enablemention: Mentions the user when the score is posted (only if account is associated), otherwise show plain text username
!enablenewsongs: Reports if a new song was added
It is my first bounty so please let me know if I missed anything or if there's is any feature i might need but I ommited! Thanks in Advance